Monster Pumpkin Exhibition and Display
October 2010 - Metropolis at Metrotown, Burnaby
October 16th to 31st - Sandemons - Sand Sculpture Company held the Monster Pumpkin Exhibition and Display at Metropolis at Metrotown.
David Billings, Fred Dobbs, Bruce Waugh, Craig Mutch and Roger Chaisson carved Atlantic Giant Pumpkins ranging in size from 50 to 1000lbs during the exhibition and an additional 5 pumpkin carvers were brought in to provide a 10 person demonstration on October 30th.
Sandemons would like to thank Ron Sombilon for coming out to shoot photos for the event and Maurizio Camparmo for supplying and delivering the Atlantic Giant Pumpkins and straw bales for the exhibition.
Sandemons would also like to thank Afoot Magazine and Hush Magazine for posting articles about the event and Laura Ballance Media Group on behalf of Metropolis at Metrotown for providing print and television media coverage from the Vancouver Sun and Province, 24, Metro, Burnaby Now, EpochTimes, World Journal, New West Record, East Side Courier and Global TV, Shaw TV, CTV, City TV, World News Asia and BCIT Broadcast News.
Monster Pumpkin Exhibition Event Images
Pumpkin Exhibition Carvers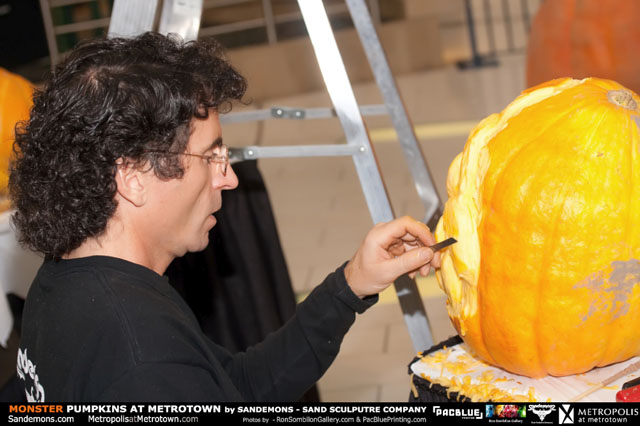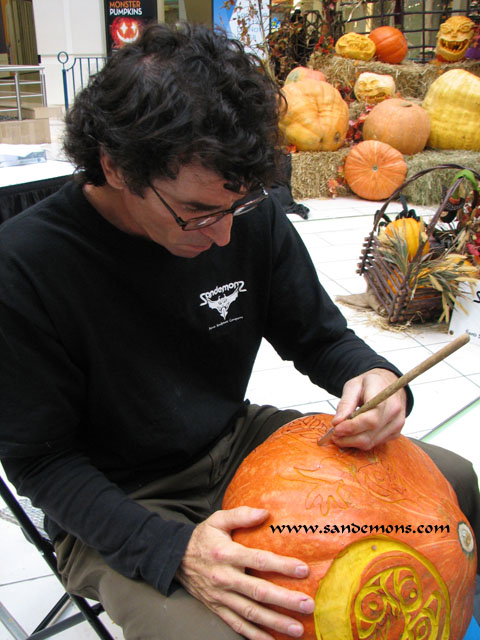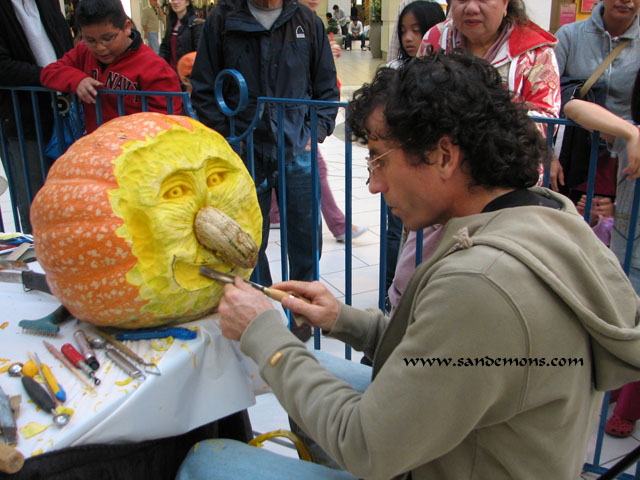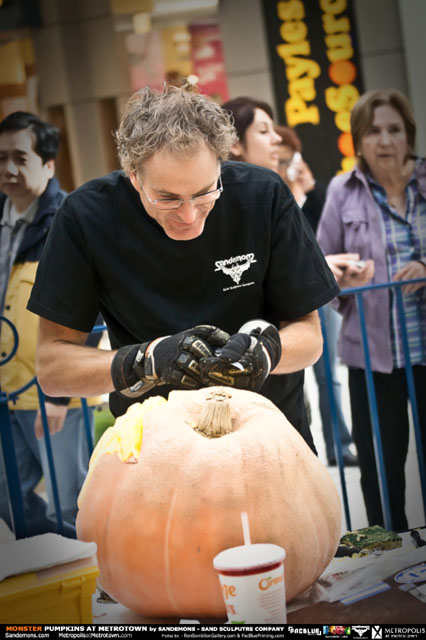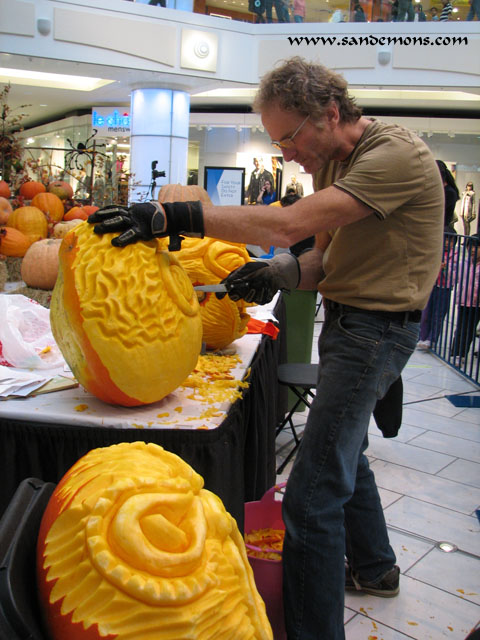 Exhibition Pumpkins
Giant Pumpkin Carving Images
Fred Dobbs and I had the pleasure of carving two truly Giant Pumpkins during the exhibition sized at 867lbs and 1,137lbs. I carved the 1,137lb pumpkin into a haunted house scene over a 5 day period and Fred carved the 867lb giant into trick and treaters being followed by ghosts and on their way to the haunted house.
1,137lb Giant Pumpkin Images
867lb Giant Pumpkin Images
10 Carver Exhibition
October 30th we had 5 other carvers Stewart, Clive, Rod, Colin and Derek join the rest of the group to put on a 10 carver exhibition for the public at Metropolis. The group carved Atlantic giant pumpkins ranging in size from 150 to 300lbs.